8-10 minutes
Non-essential services will begin to close in New South Wales and Victoria over the next 48 hours, as Australia desperately attempts to slow the exponential growth of the deadly disease before tens of thousands die from it.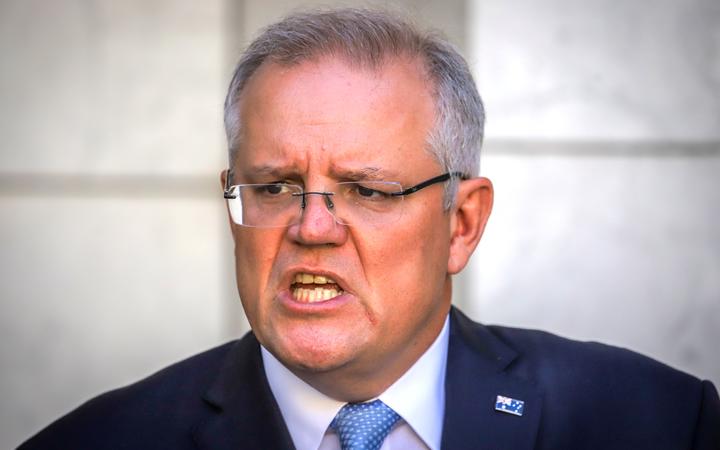 Photo:

AFP
Supermarkets, petrol stations, pharmacies, convenience stores, freight and logistics, and home delivery will be among the many services that will remain open.
Schools in both states will also be open on Monday, but in Victoria school holidays will be brought forward to start on Tuesday.
Both Victoria and New South Wales (NSW) were planning to push for lockdowns at tonight's National Cabinet meeting, but NSW Premier Gladys Berejiklian and Victorian Premier Daniel Andrews made clear that their states would be pursuing these more drastic measures.
Andrews said the step was necessary or "our hospitals will be overwhelmed, and more Victorians will die".
Berejiklian said she would "update NSW tomorrow morning about the impacts and our plans following the National Cabinet".
Neither statement gave examples of which services would be considered non-essential, but previous federal government advice pertaining to "non-essential indoor gatherings" included restaurants, pubs, cafes, cinemas, weddings and funerals.
NSW has moved past 500 confirmed cases of coronavirus, reaching 533 as of 8pm on Saturday, while the Victorian tally now sits at 296.
Andrews said "the decision whether to re-open schools after the Term 1 holidays will ... be determined following advice from the chief health officer".
Andrews's office said it would not be commenting or clarifying further until the National Cabinet meeting this evening.
Earlier on Sunday, both Western Australia and South Australia announced they were closing their borders as of Tuesday, requiring any travellers to go into self-isolation for two weeks. Tasmania and the Northern Territory already have such restrictions in place.
Coronavirus 'red zones' could face lockdown
Political leaders will also consider urgent and draconian powers allowing authorities to shut down so-called Covid-19 "red zones", meaning state police officers would prevent residents from travelling to less infected suburbs or areas.
At the National Cabinet meeting the prime minister, premiers and chief ministers will discuss how to best implement emergency restrictions like those adopted in parts of Europe and in the Chinese city of Wuhan.
"We had scheduled our next meeting to focus on the issue of further and stronger measures to deal with local outbreaks within state jurisdictions," Prime Minister Scott Morrison said.
"We are bringing forward consideration of those matters to a meeting this evening".
The dramatic national approach would likely be assisted by the federal departments of Health and Home Affairs, and was flagged earlier this month by Federal Attorney-General Christian Porter who warned the Commonwealth may need to use unprecedented quarantine laws to restrict the movement of people.
Photo:

SUPPLIED
Over the weekend health authorities were dismayed by numerous examples of crowds ignoring guidelines on social distancing, instead cramming into popular locations
such as Bondi Beach
.
"What happened at Bondi Beach yesterday was not OK and served as a message to federal and state leaders that too many Australians are not taking these issues seriously enough," Morrison said.
"The measures that we will be considering tonight means that state premiers and chief ministers may have to take far more draconian measures to enforce social distancing."
The country's rate of new confirmed coronavirus cases is now growing at 20-25 percent a day, with some projections showing between one or two million Australians could be infected by the end of April.
If those numbers were reached, tens of thousands of people would be dead based on the mortality rate recorded by China earlier this year.
Government unveils $AU66b stimulus package
The government has unveiled a $AU66 billion ($NZ67m) economic stimulus package and urged people to cancel all non-essential travel in a bid to protect Australia in the face of the coronavirus pandemic.
Photo:

AFP
Small businesses will receive cash payments up to $AU100,000 ($NZ101.5m) and some welfare recipients will receive another $AU750 ($NZ761).
Additional measures include:
Temporarily doubling the Jobseeker Payment, previously called Newstart
Allowing people to access $AU10,000 ($NZ10,150) from their superannuation in 2019-20 and 2020-21
Guaranteeing unsecured small business loans up to $AU250,000 ($NZ253,700)
Reducing deeming rates by a further 0.25 per cent
"We cannot prevent all the many hardships, many sacrifices that we will face in the months ahead," Morrison said.
"And while these hardships and sacrifices may break our hearts on occasion, we must not let them break our spirit and we must not let them break our resolves as Australians."
It builds on the measures included in the first $AU17.6 billion ($NZ17.86b)
economic stimulus package
announced more than a week ago.
Taking into account the first round of stimulus measures, and those announced by the Reserve Bank this week, the total economic assistance package is worth $AU189 billion ($NZ$191.8b), according to the government, equivalent to 9.7 percent of Australia's gross domestic product.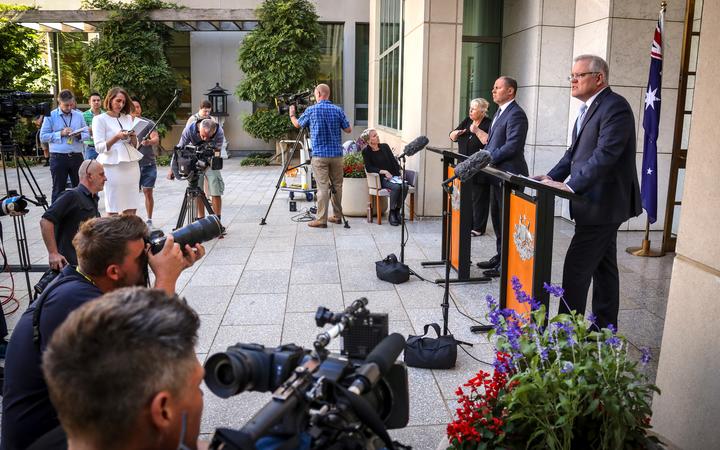 Photo:

AFP or licensors
The Prime Minister will meet with Opposition Leader Anthony Albanese later today to discuss when the Parliament will sit during the next six months.
A reduced number of politicians will return to Parliament House on Monday to pass legislation required to implement the stimulus measures.
Cash for welfare recipients
The second $AU750 ($NZ761) payment will be automatically paid to an estimated five million people on July 13. The first $AU750 payment, announced in the first stimulus package, will be paid on March 31.
The government will temporarily double the Jobseeker Payment, previously called Newstart, providing people with an additional $AU550 ($NZ558) a fortnight.
The payment will be available to sole traders and casual workers, provided they meet income tests. The government will waive asset tests and waiting periods to access the Jobseeker Payment.
"The nature of these payments and the purpose of these payments are changing," the prime minister said.
"This is clearly saying that we expect this to go on for some time and we know that those vulnerable groups may need additional income support during those periods."
Support for small business
Not-for-profits and small businesses with a turnover under $AU50 million ($NZ50.74m) will receive a tax-free cash payment of up to $AU100,000 ($NZ101,500), with a minimum payment of $AU20,000 ($NZ20,300) for eligible companies.
The government expects 690,000 businesses employing 7.8 million people and 30,000 not-for-profits will be eligible for measures in the stimulus package.
The Commonwealth is also offering to guarantee unsecured loans of up to $AU250,000 ($NZ253,700) for up to three years.
Access to superannuation
The government will allow people to access up to $AU10,000 ($NZ10,148) from their superannuation this financial year and in 2020-21.
People will not pay tax on the money they access and withdrawals will not affect Centrelink or veterans' payments.
There will also be a temporary 50 percent reduction in superannuation minimum drawdown requirements for account-based pensions in 2019-20 and 2020-21.
- ABC
Join Geezgo for free. Use Geezgo's end-to-end encrypted Chat with your Closenets (friends, relatives, colleague etc) in personalized ways.

>>